In honor of the the greatest achievement of humanity to date.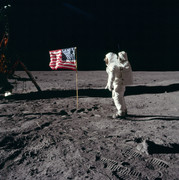 Are you?
My mom made sure my sister and I were awake when it all happened. As a six year old kid, I didn't quite understand the significance of the event, but I sure as hell do now.
I'm really pissed off that we retreated and never bothered to go back to establish a permanent presence.