This is the first of hopefully many Political Debate threads here in the Zoo.
Politics is one of those topics people can get very emotionally attached to and very upset with when confronted with opinion that opposes their viewpoint. So, in light of this reality let me state for the record that in my opinion, both the R & D parties gave
no
viable candidates in the final offerings presented in the general election of 2016. Both parties final candidates had no business being in the running for POTUS and regardless who got in this time I wouldn't be happy about it. I say this because had Hillary Clinton got in I would be busting her balls as hard or harder than I do Comrade tRump. Having said this, may I present my position on the next presidential election.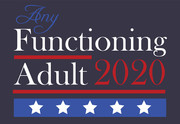 BKTU, de WZ7U