KerberosSDR Batch 2 will begin shipping very soon! Thank you to all who have supported this project so far. If you didn't already know
KerberosSDR is our experimental 4x Coherent RTL-SDR product made in partnership with Othernet
. With it, coherent applications like radio direction finding (RDF), passive radar and beam forming are possible. We just wanted to note that
this Monday the reduced preorder pricing of US$130 + shipping will end, and the price will rise to the retail price of $149.95 + shipping
. So if you have been thinking about ordering a unit, now would be a good time. Ordering is
currently possible through Indiegogo
. On Monday we will change to our own store. For shipping, US orders will be sent domestically from Othernet's office in Chicago. They are still waiting on the US shipment to arrive, but it is expected to arrive by the end of next week. Once shipped locally you will receive a shipment notification. For international orders, the packages are being labelled now, and should be going out early next week, or sooner.
KerberosSDR Inside and Outside the Enclosure
Future Updates to KerberosSDR
With the profits raised from KerberosSDR sales we are looking to continue funding development on the open source server software and visualization software being created (as well as applying updates ourselves). In future updates we will be looking at features such as:
Streamlining the sample and phase sync calibration process.
Experimenting with software notch filters for calibration (may reduce the need to disconnect the antennas during calibration).
Reworking the buffering code for improved sample ingestion performance and increased averaging.
Direction finding and passive radar algorithm improvements.
Creating a networked web application for combining data from two or more physically distributed KerberosSDRs over the internet for immediate TX localization.
Updates and bug fixes for the Android mobile direction finding app for use in vehicles.
Improving passive radar to be able to use all four RX ports for surveillance so that larger areas can be covered.
Plotting passive radar pings on a map.
Beginning experimentation with beam forming.
In the farther future we hope to eventually have even more clever software that can do things like locate multiple signals in the bandwidth at once, automatically plot them on a map, and track them via their unique RF fingerprint, or other identifiers.
Future hardware updates may see more streamlined calibration and smaller sizes.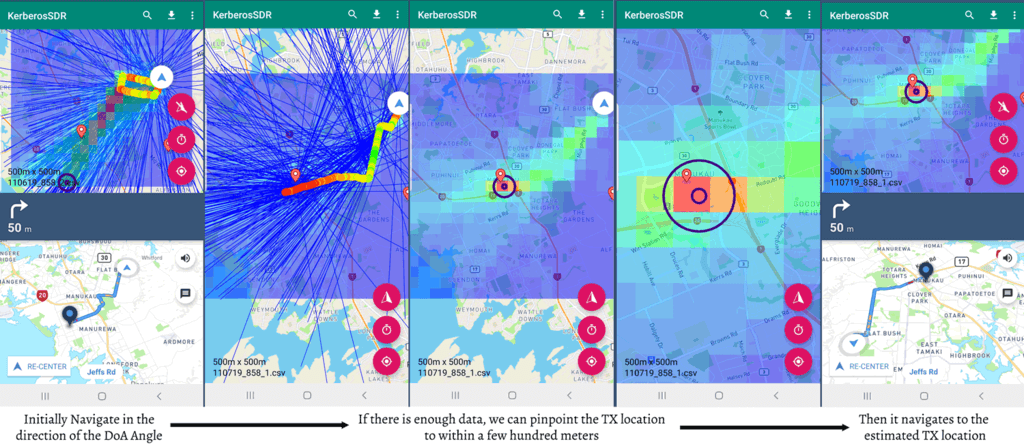 KerberosSDR Android App for Direction Finding
Source:
https://www.rtl-sdr.com/kerberossdr-bat ... on-monday/